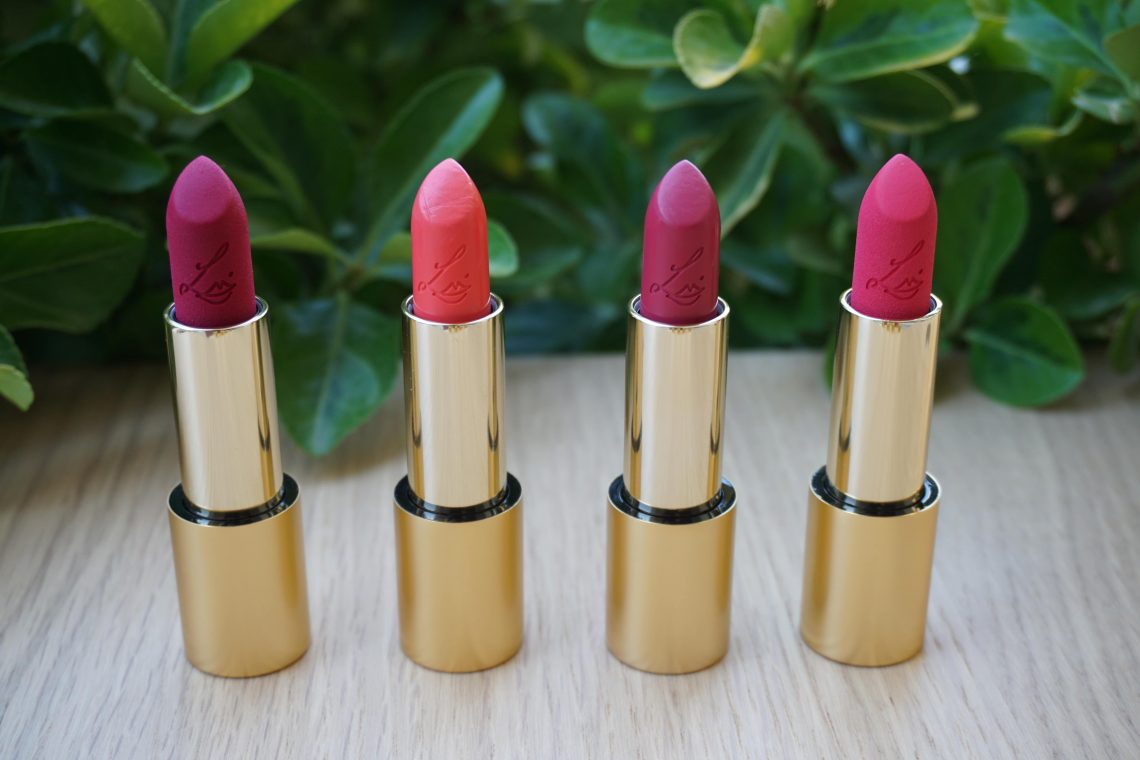 Lisa Eldridge Pink Lipsticks – Collection Summer 2019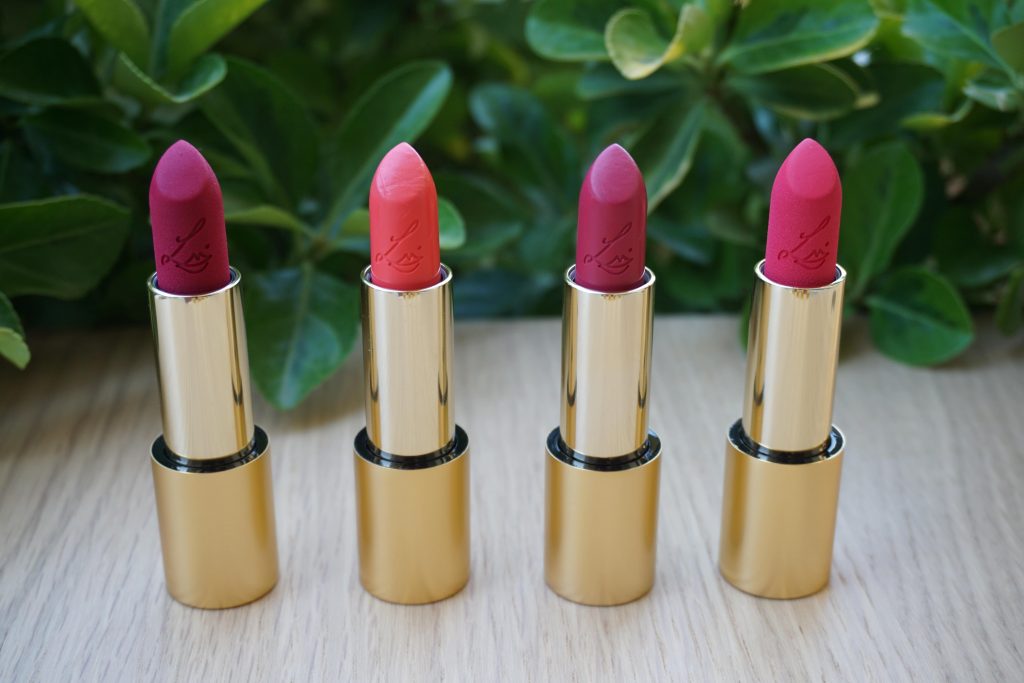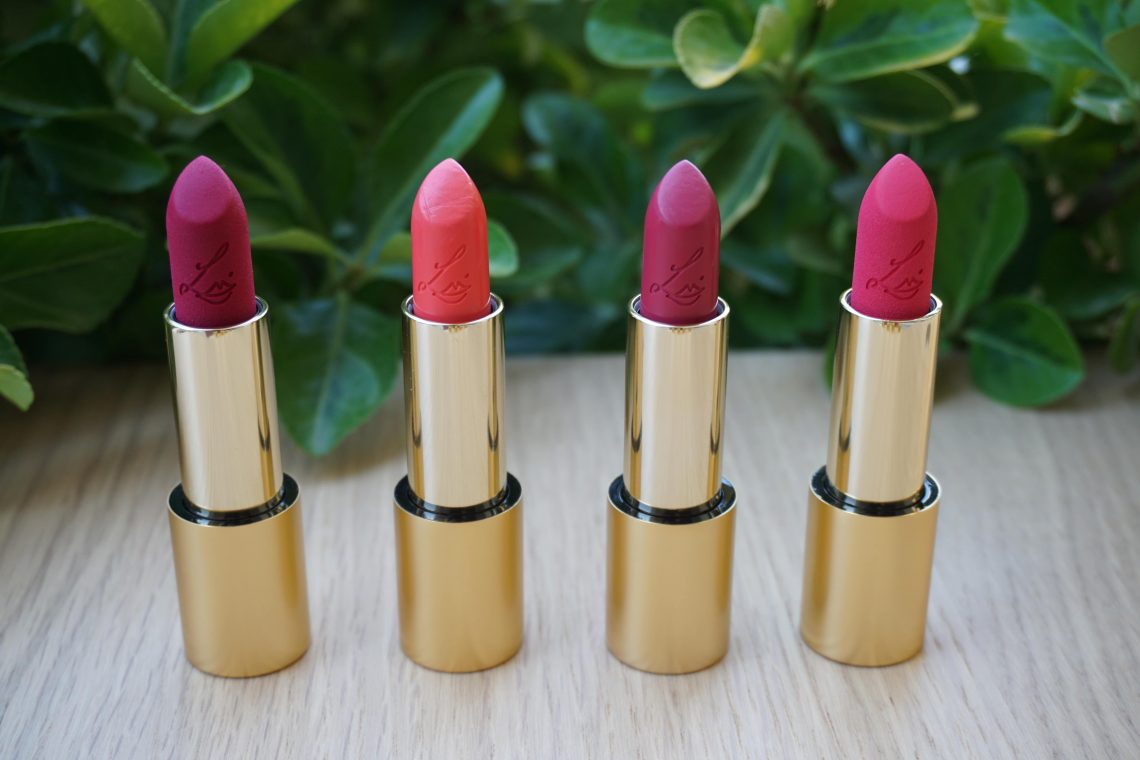 Lisa has done it again! After her first true velvet collection, in winter 2018, the new summer collection got sold out within a few days. Soon afterwards, the Lisa Eldridge Pink Lipsticks became a sensation in the beauty community and on social media. #LisaEldridgeMakeup #LisaEldridgeLipsticks and any hashtag with the lipstick's name is very hot right now!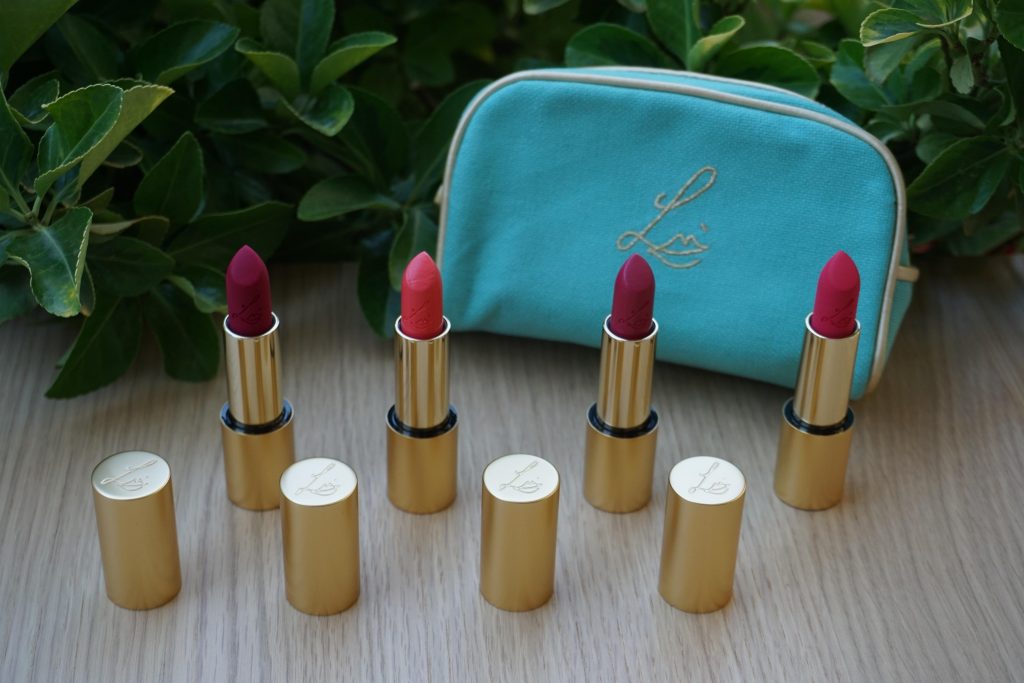 The pink lipstick collection consists of four lipsticks and a linen makeup bag which is lovely! The lipsticks come in two formulas :
Formula 1: Luxuriously Lucent Lip Colour. I would characterise this formula as the equivalent of 'glass skin' for lips. The formula is very thin, so one swipe gives a beautiful flush of colour but it is also buildable because with about three swipes my natural lip colour underneath vanishes. They are shiny without any glitter. It has a very thin oily consistency which feels comfortable and luxurious. It is translucent and shiny. Lipsticks of this formula: Go Lightly and Love of my Life.
Formula 2: Insanely Saturated Lip Colour. This formula is a luminous matte one and indeed insanely pigmented. If applying directly, I strongly recommend using a lip pencil or at least a lip brush, unless you have a truly steady hand. The lipsticks are so pigmented and the colours are so strong that every single flaw in the application stands out. This one, too, is very comfortable to wear. The bullets of this formula have a texture that looks like felt. Lipsticks of this formula are Rainbow Spill and Skyscraper Rose.
Let's dive right in!
Go Lightly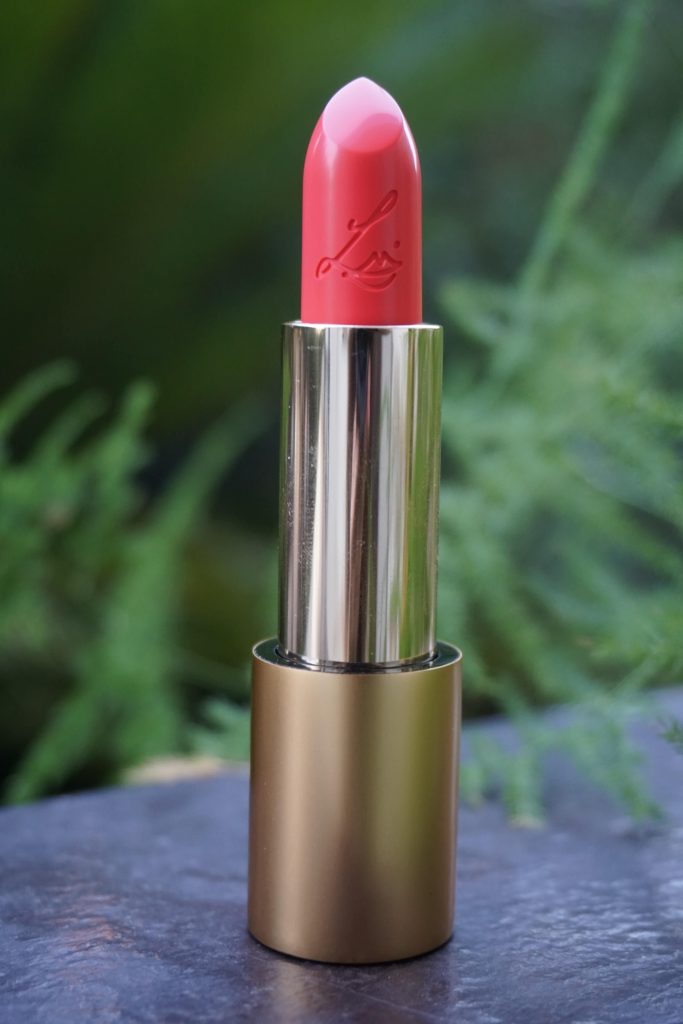 Go Lightly is a salmon pink that will show differently on every skin colour. It can look pink or coral or peach depending on your skin tone. On me, it is more on the pink side, but I think in different lighting conditions, it looks different despite the fact that my skin tone is the same (within a day at least!). It comes in the luxurious lucent lip colour formula.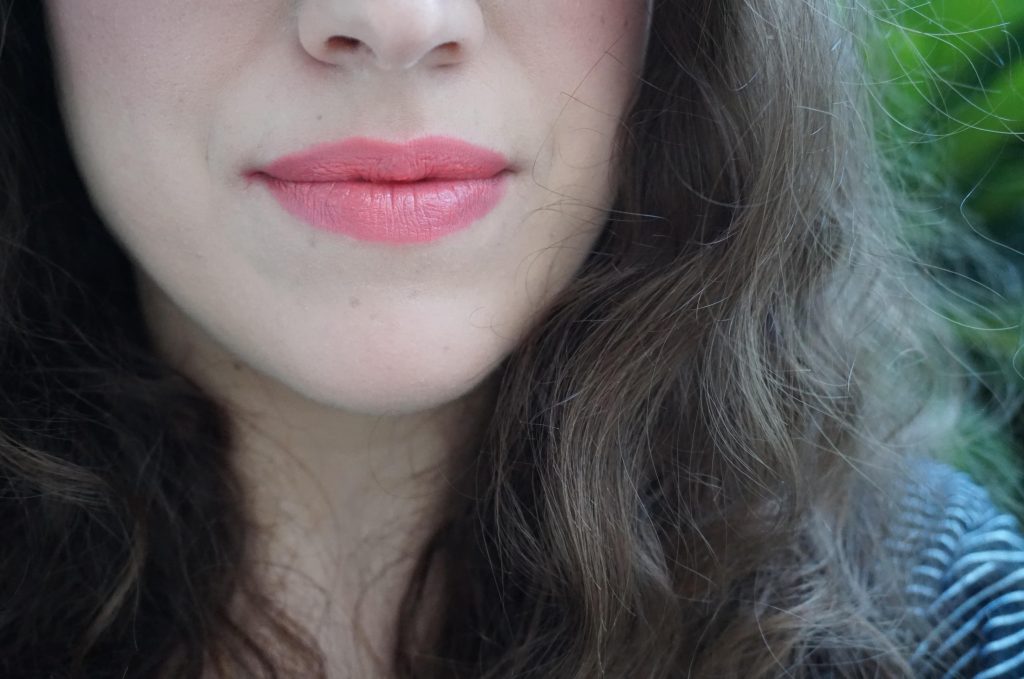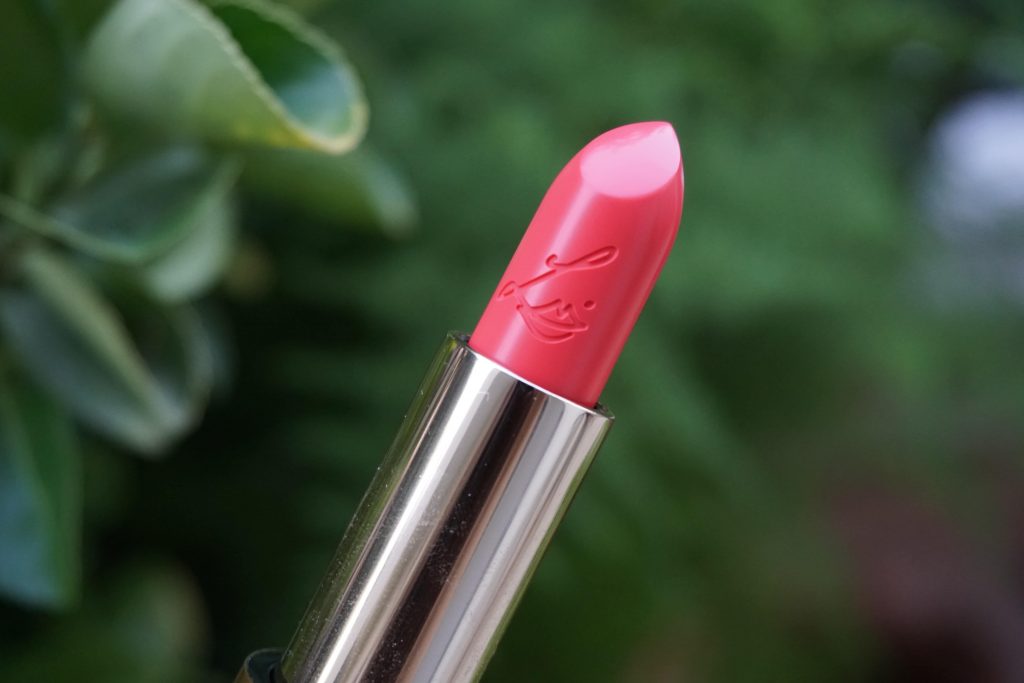 A short story
Now, I think, this lipstick has a special story behind it. Let me explain myself… A few days before Lisa uploaded her video where she introduced her new lipstick collection, she had uploaded a video concerning her acquisition of Audrey Hepburn's lipstick, which Audrey wore at Breakfast at Tiffany's and on many other occasions. She presented Audrey's lipstick and she characterised it as a 'true salmon pink' and she even wore a tiny bit of it in that video. What is more, she showed a sample she had made that was the exact same shade as Audrey Hepburn's lipstick.
Therefore, I was expecting that when she would launch her lipstick line, she would name one of the lipsticks 'Audrey' and it would be the exact same shade as Audrey Hepburn's. The lipstick collection launched, and what seemed to be that lipstick was this one, Go Lightly. However, Lisa mentioned nothing about making the lipstick as a tribute to Audrey Hepburn or that she had replicated the colour and reformulate it in this modern formula.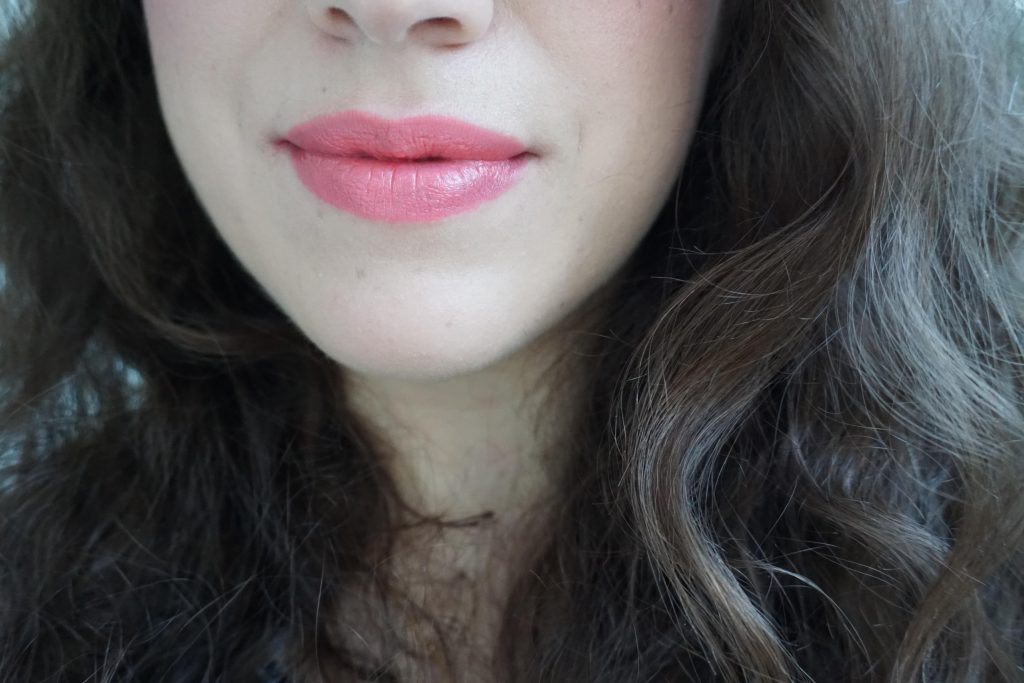 On the other hand, there are indications (not proof!) that this lip colour is, if not the same one, then at least very close to the one she had made for her:
Lisa described both lipsticks as 'salmon pink' (the first time in her video about Audrey's lipstick and the second time on her website, on the page of Go Lightly).
The lipstick's name is 'Go Lightly', and in the movie, Golightly was the last name of Hepburn's character. I think this is too much of a coincidence.
I tested the colour of both lipsticks as Lisa has worn them in these two videos, with a colour picker on my computer. Assuming Lisa films in the same studio, with the same lighting conditions, the lipsticks should look about the same on-screen. So, the results are that the colour in hex code is #F0646C on Lisa's lips in the video of Audrey Hepburn's lipstick and #F3808C on Lisa's lips in the video of this lipstick launch. And they are so close.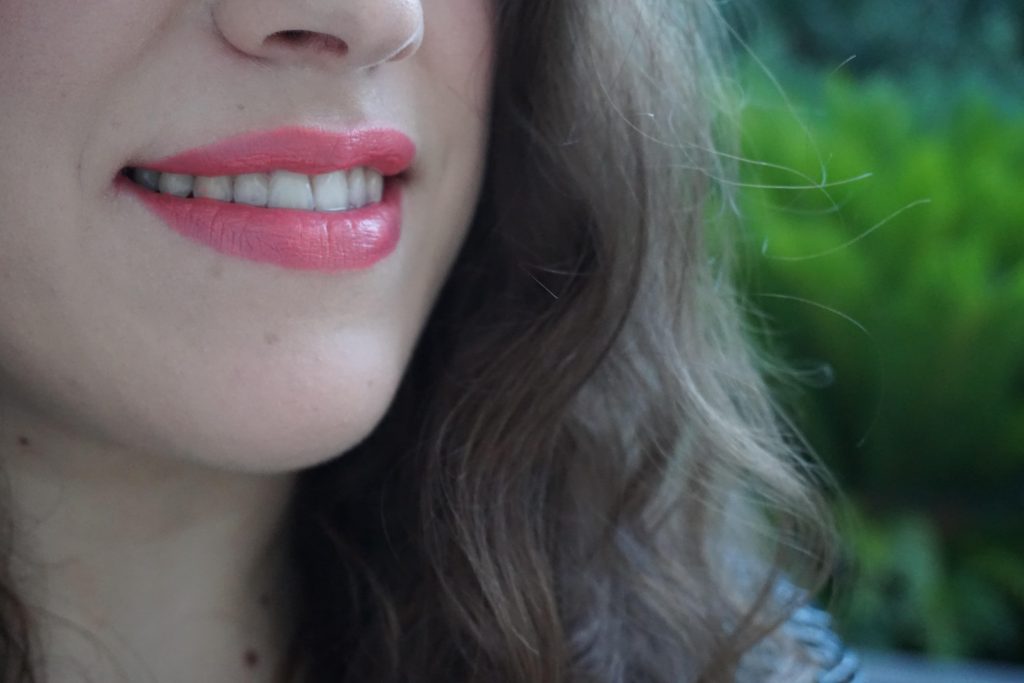 So, Go Lightly or Golightly?
Now, why hasn't Lisa mentioned a thing? Maybe she didn't want to serve this information straight on the plate for us, but she wanted us to infer it on our own. Or the colour is inspired by Audrey Hepburn's lipstick but it is not the same. Maybe, she didn't want this lipstick to be marketed as Audrey's one dupe, because it deserves love on its own. She could have also tweaked the formula and she kept the colour the same, but she feels the differences are so many that it cannot be presented as a replica. Maybe there is no connection at all. Well, who knows? Maybe Lisa wanted to leave it to us, to believe whatever each one finds appropriate. 🙂
Love of My Life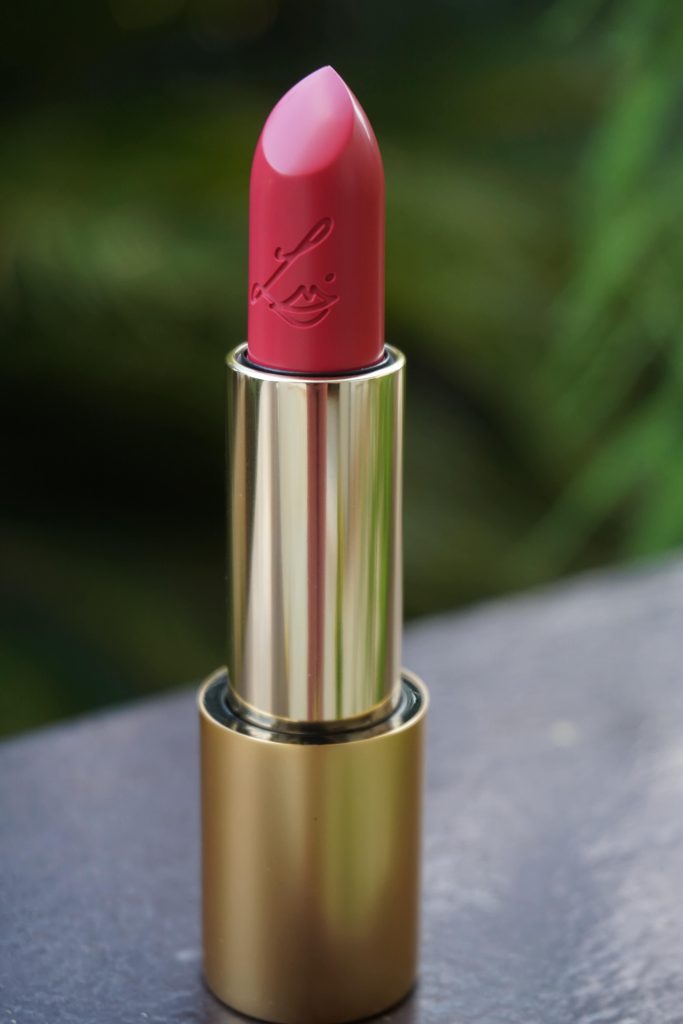 Each time I read or hear 'Love of my Life', Freddie Mercury starts singing in my head the titular song. But I don't think this is what Lisa had in mind! Love of my Life is the second lipstick with the Luxuriously Lucent formula, and its colour is a true rose, the colour Lisa has always loved, thus the name, according to her launch video.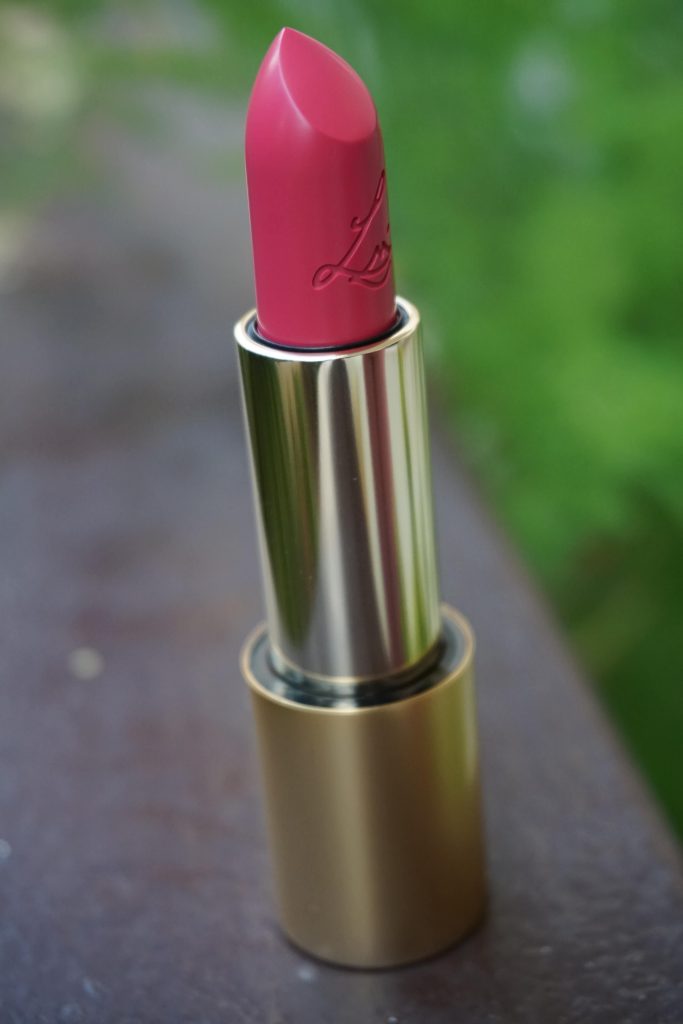 For me, it's the most wearable lipstick of the collection for everyday use. Its translucent formula is almost foolproof, it's very pleasant on the lips and the colour is so beautiful. Simple and elegant. A couple of hours after application, I found that it had set but not completely, and that the sheen and colour were still there.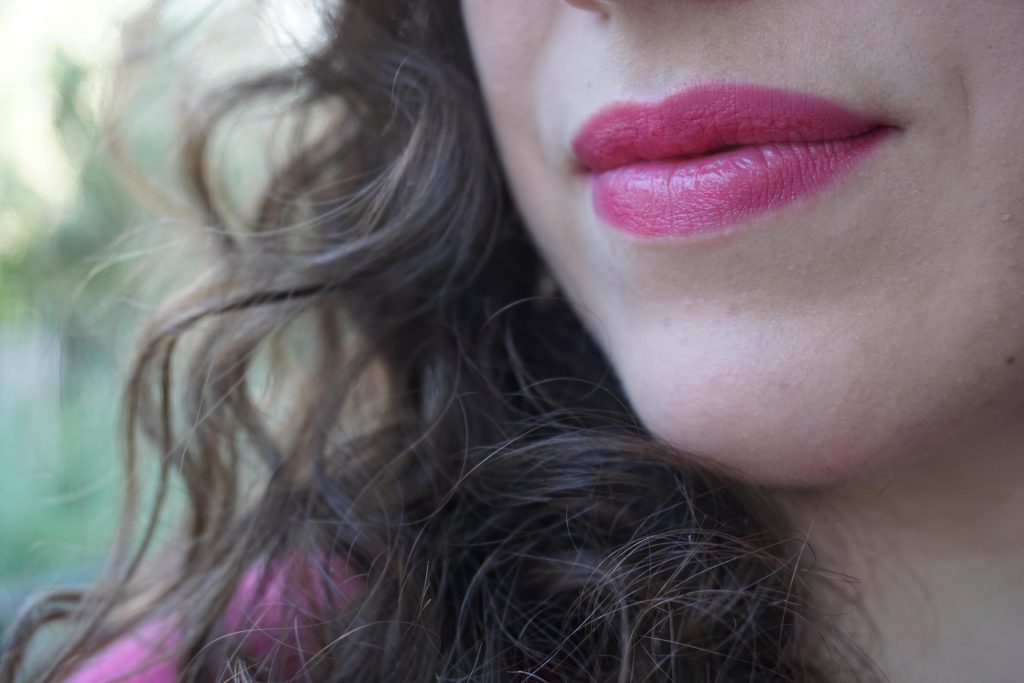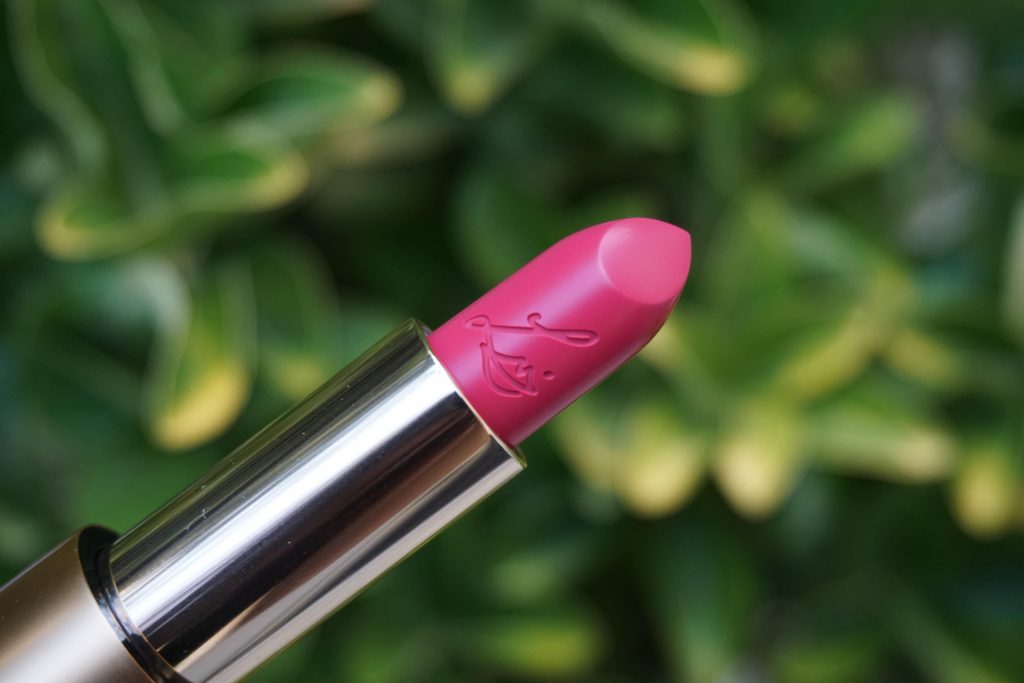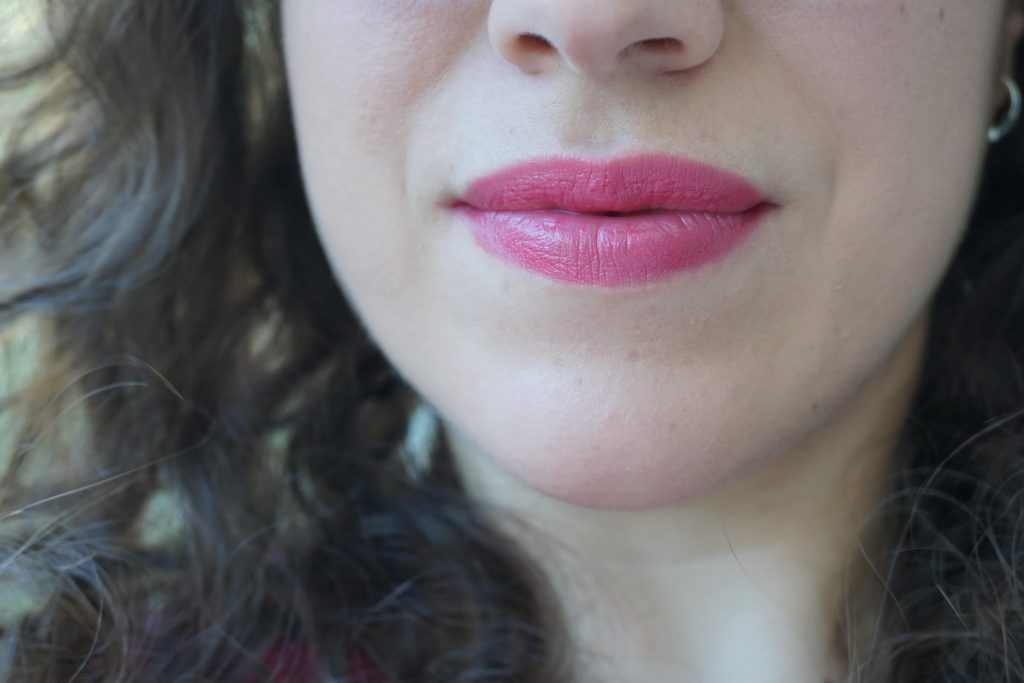 This formula is very buildable as mentioned before, and you can reapply after some time has passed or straight away. Below you can see how it looks with multiple swipes.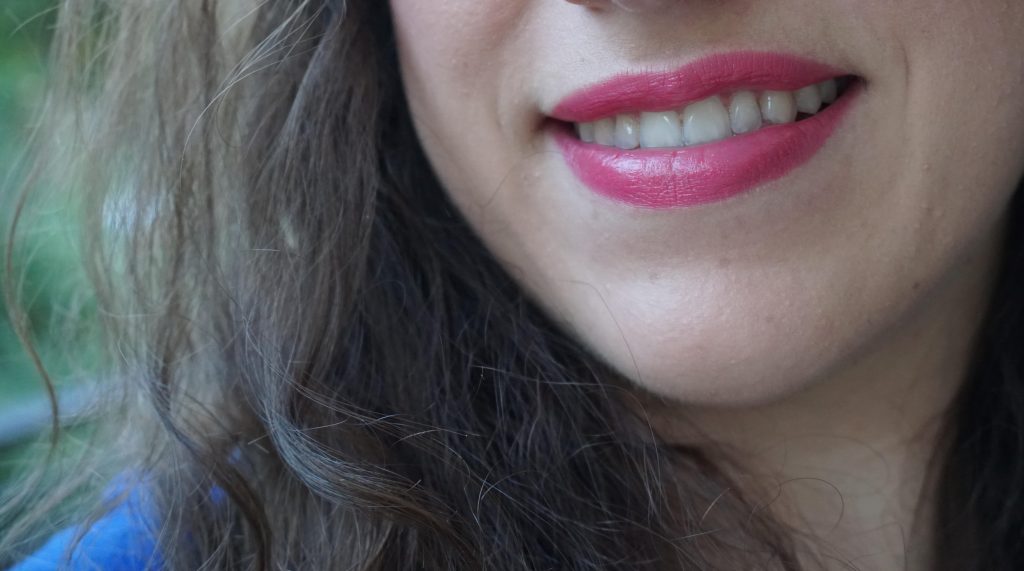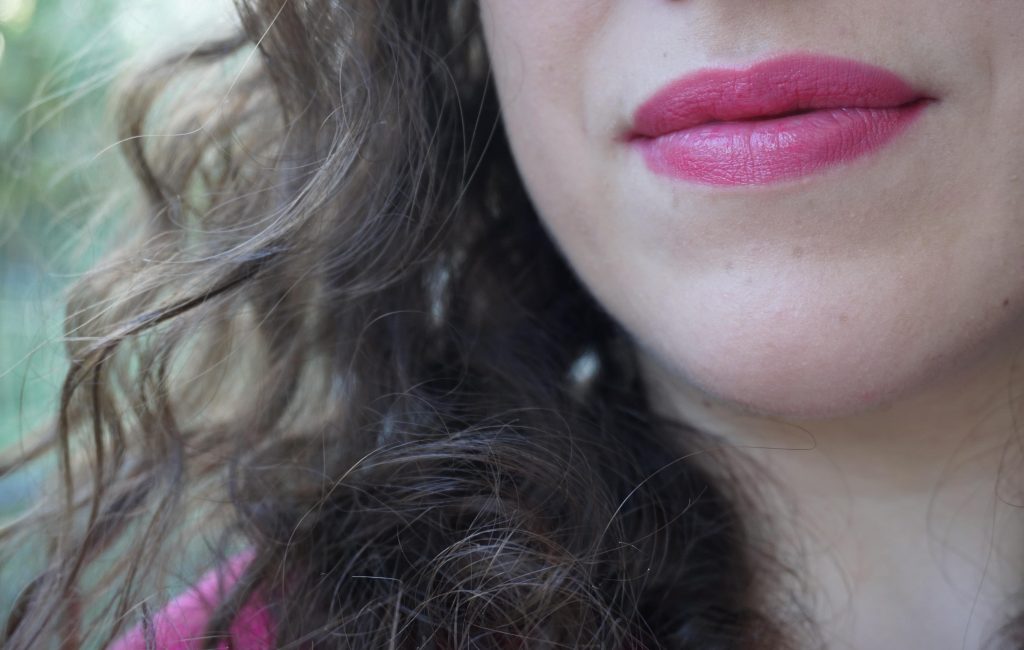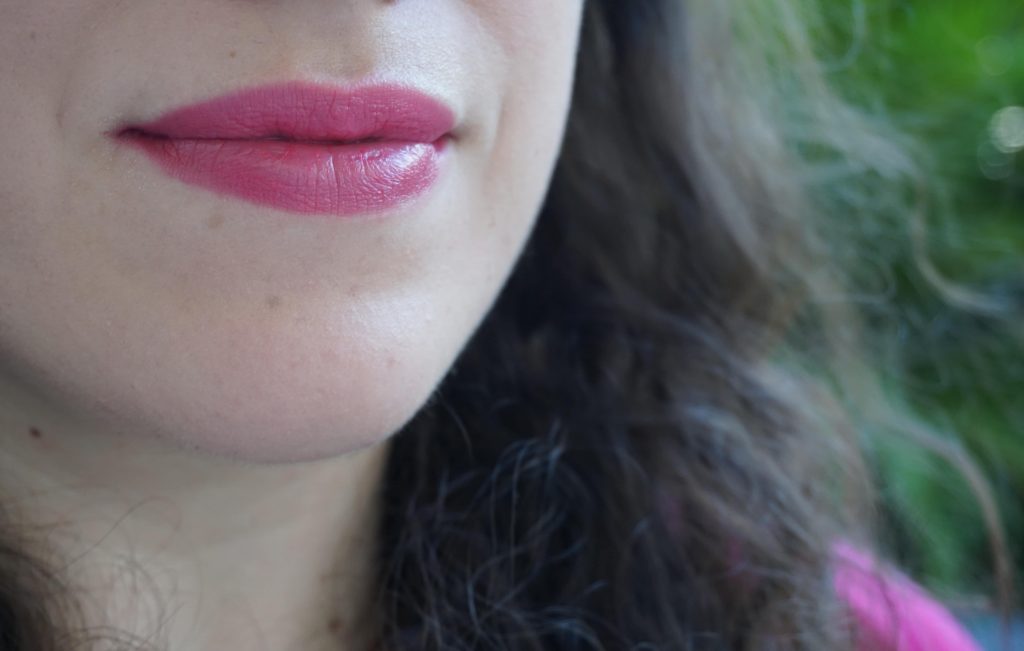 Rainbow Spill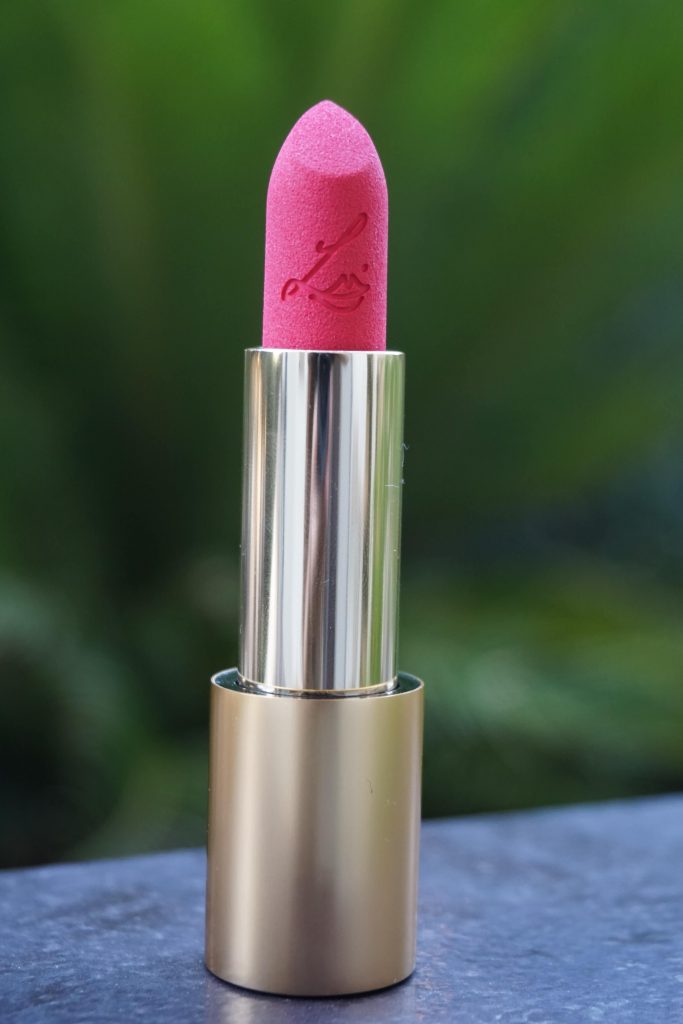 Another beauty! Firstly, when you look at the bullet, you can clearly see that its outer texture looks like felt. Rainbow Spill is indeed insanely saturated. One swipe and you get full coverage. The colour is like the innermost part of a watermelon, just as Lisa has said. It gives you the impression that it contains something pastel-y and something neon. It is a statement lip colour. I think this colour is the most original one in the collection or at least the least common in other brands. The name reminds me of the vibrant pink you see among the colours of a rainbow.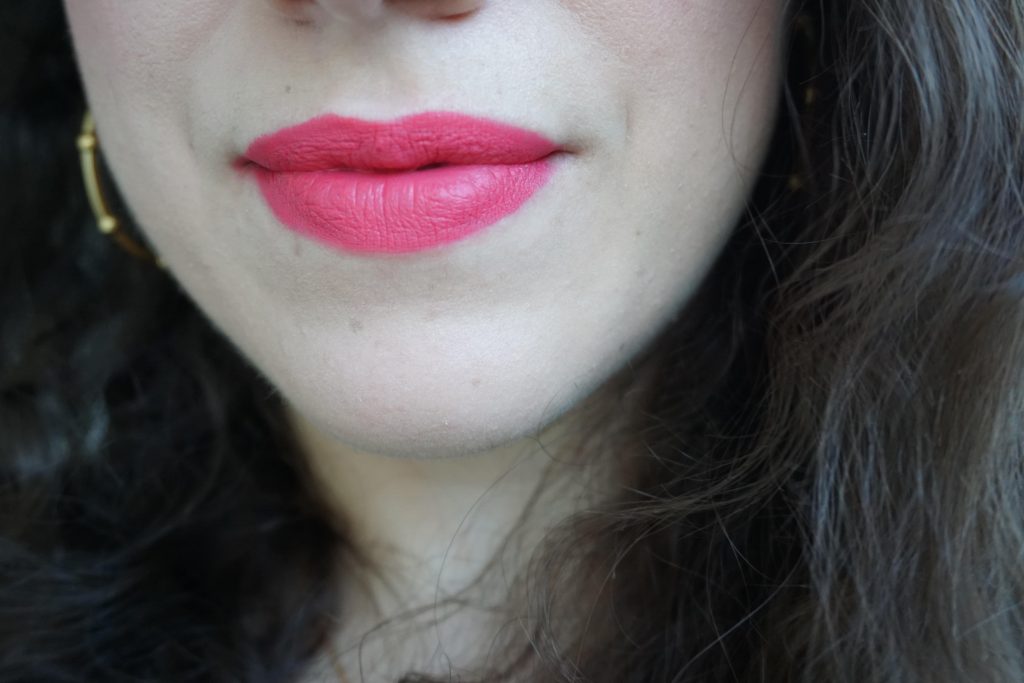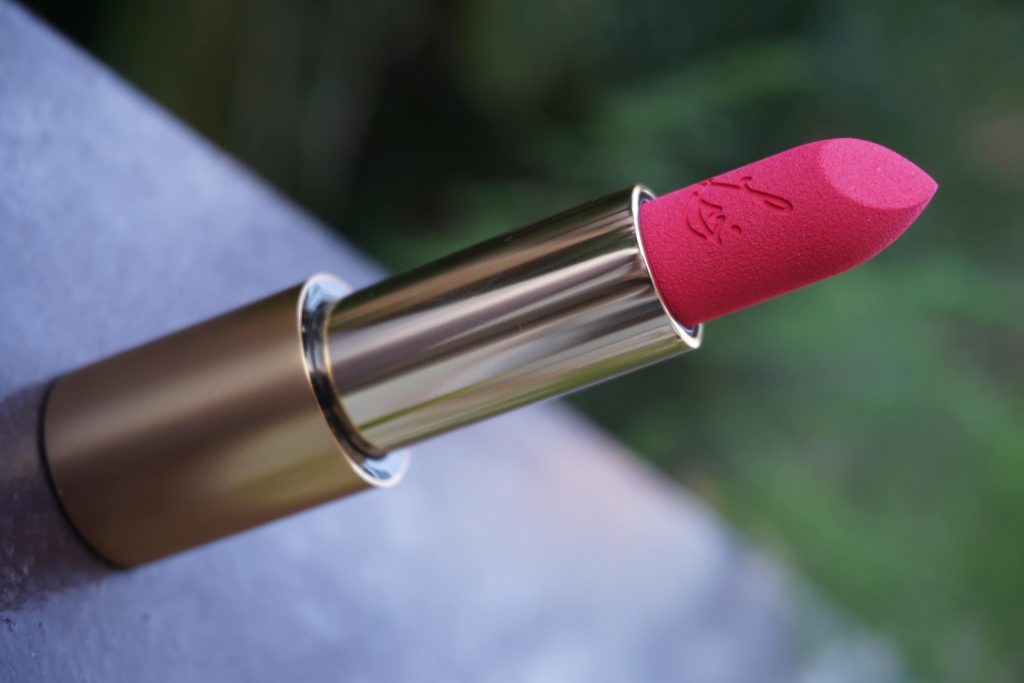 Once you apply, it stays put, no worries! You just have to spend some time applying it initially because any flaw gets magnified by the contrast between the lipstick and your skin.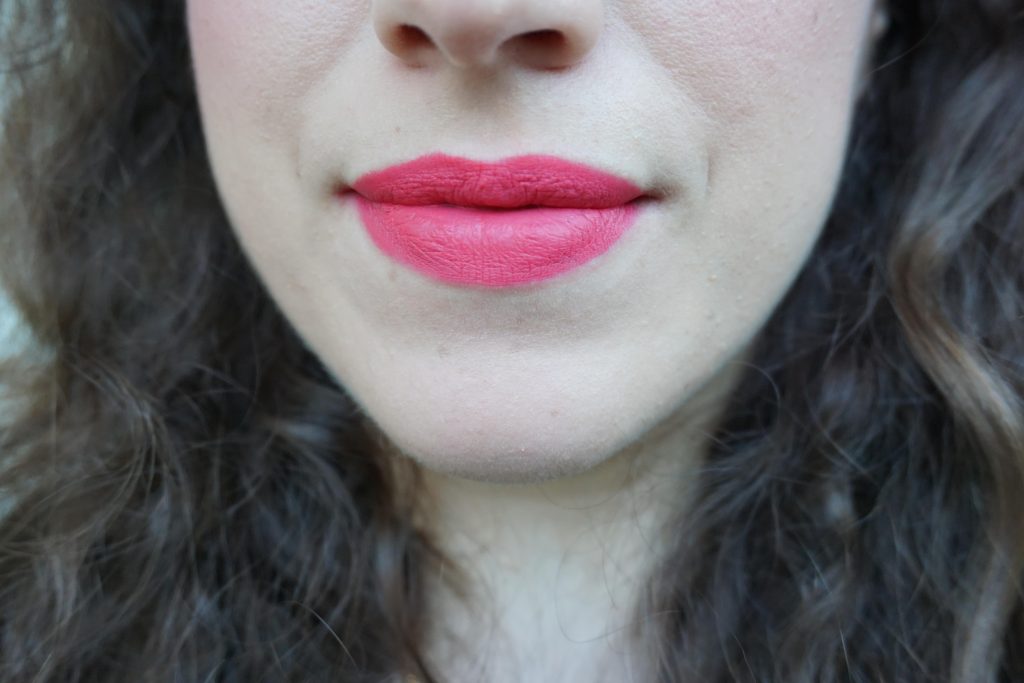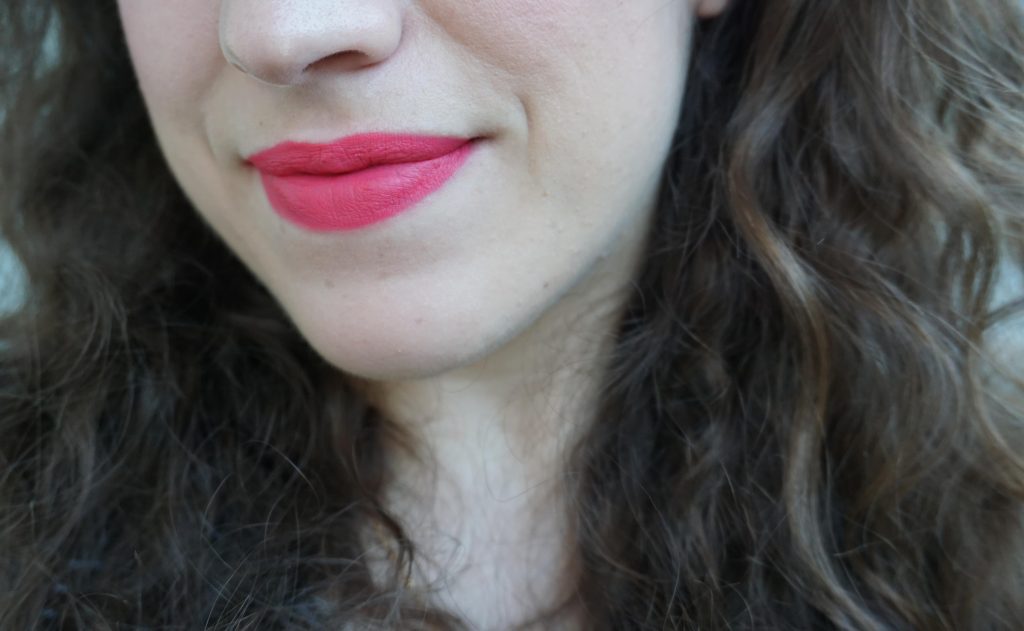 Skyscraper Rose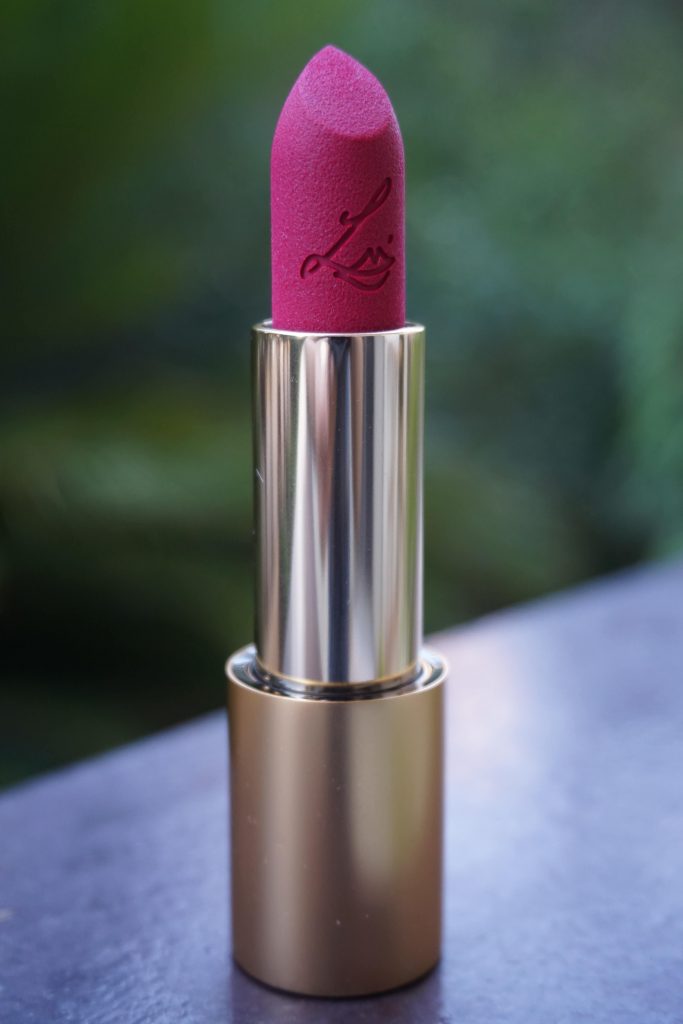 Onto my favourite one! Skyscraper Rose!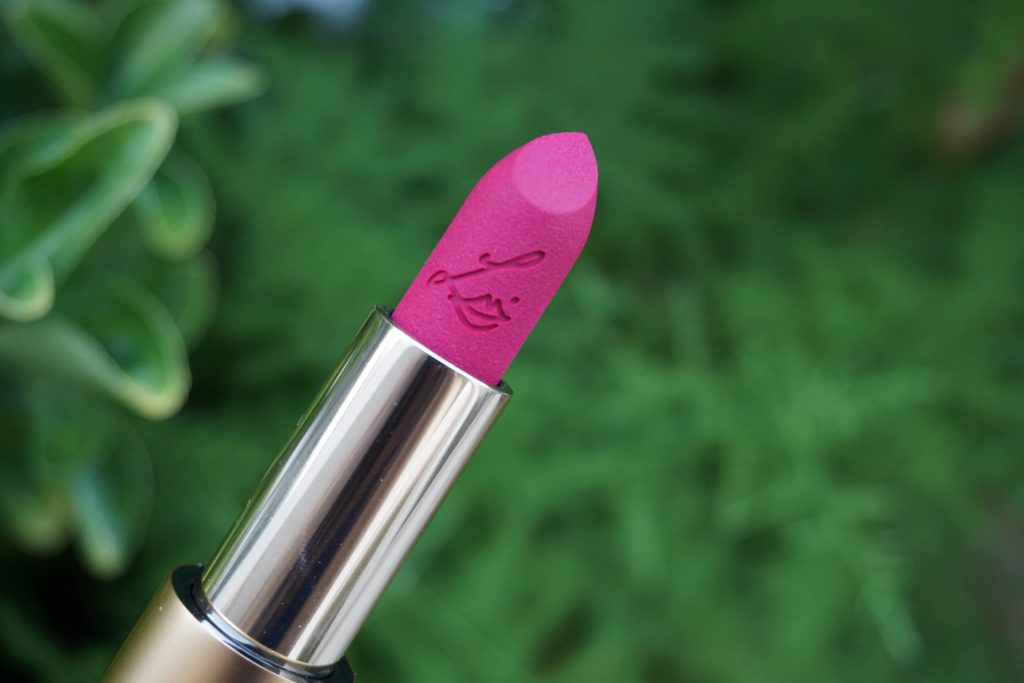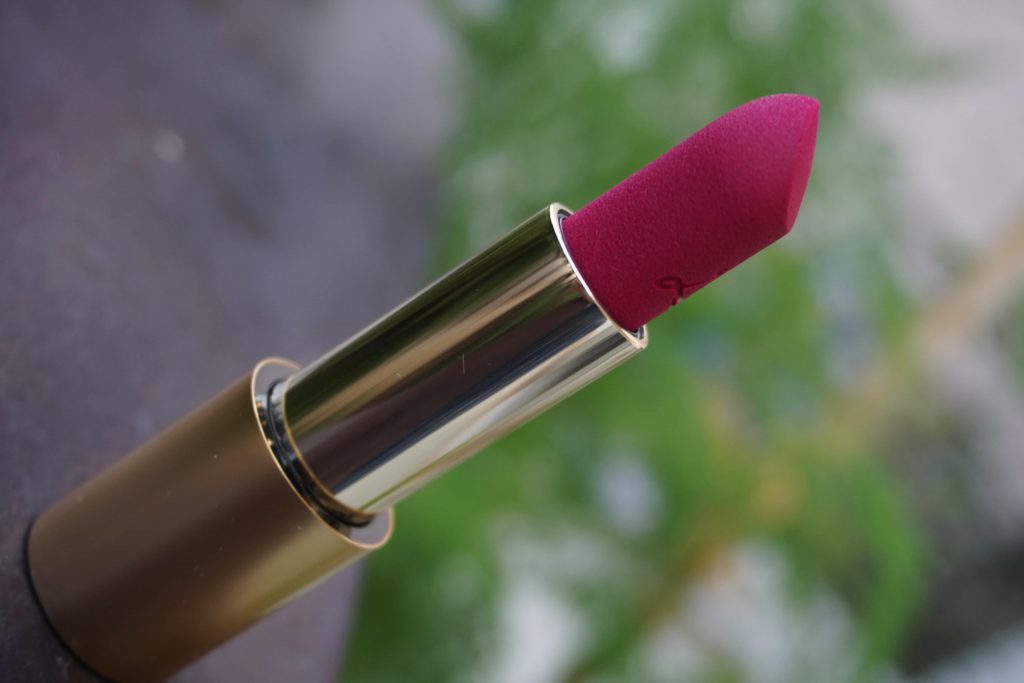 This one looks more mauve on the bullet but on my lips, it looks somewhere between a fuchsia and a red. It is a bit duochrome, in the nicest way possible! I think it looks fab on me and on any brunette. The red tones and the pink tones mix so beautifully and depending on the angle light hits your lips, red or fuchsia is reflected. Below and in any of the images, I haven't used any lipliner.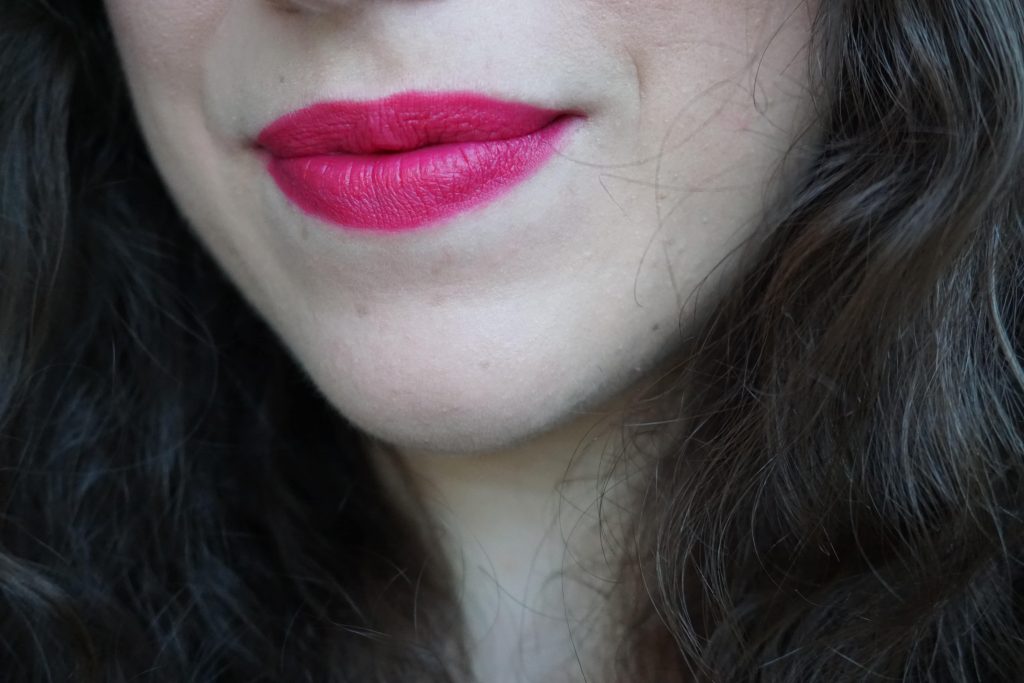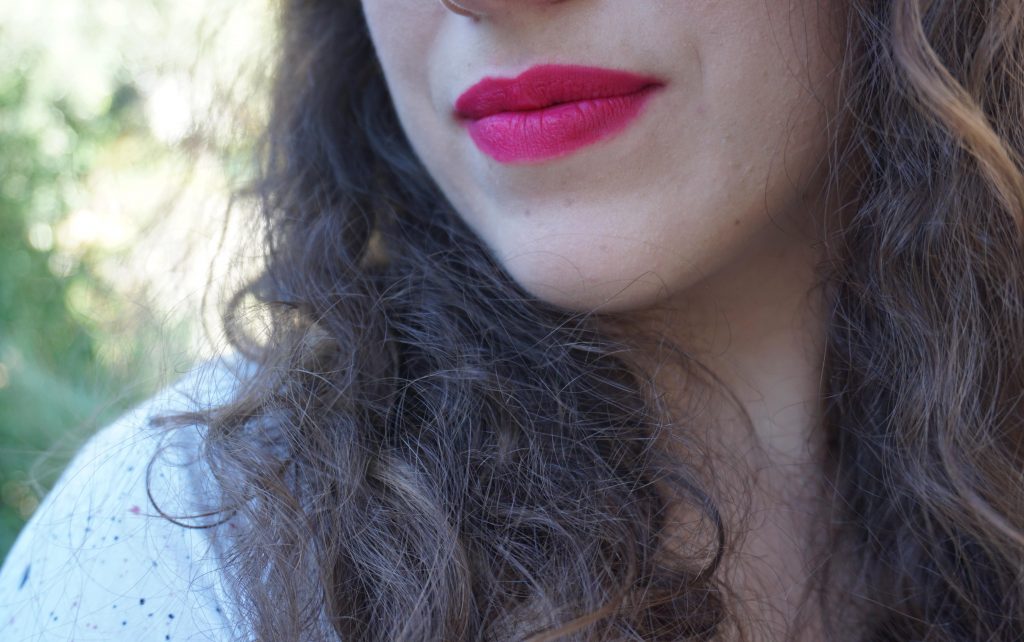 It comes in the Insanely saturated formula, again one swipe, full colour. Demi matte finish, and very comfortable on the lips. I am in love with this lipstick!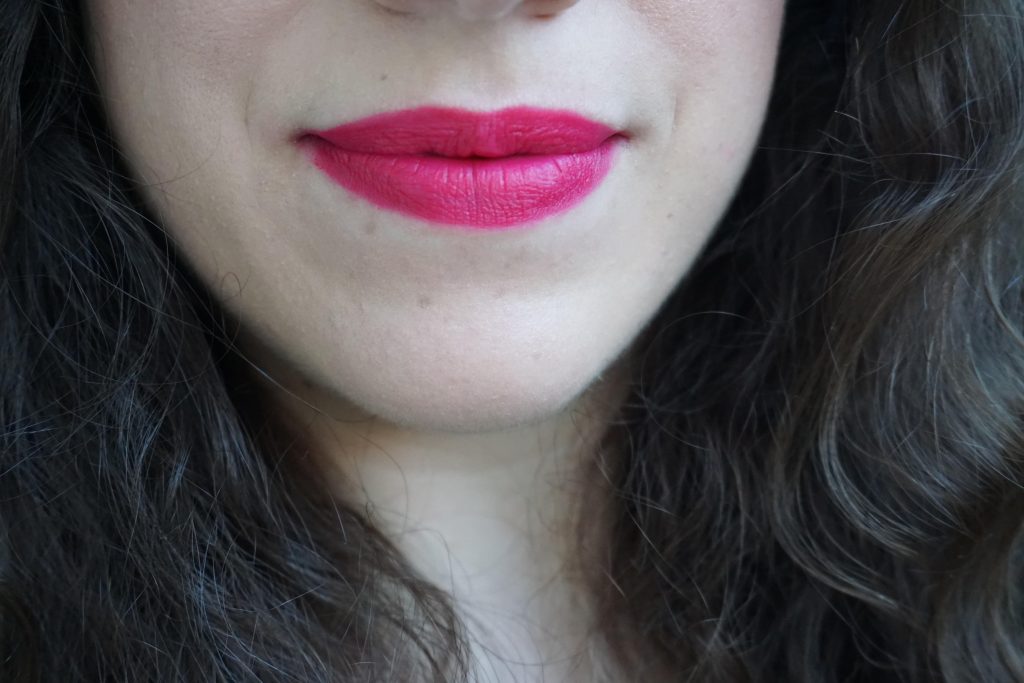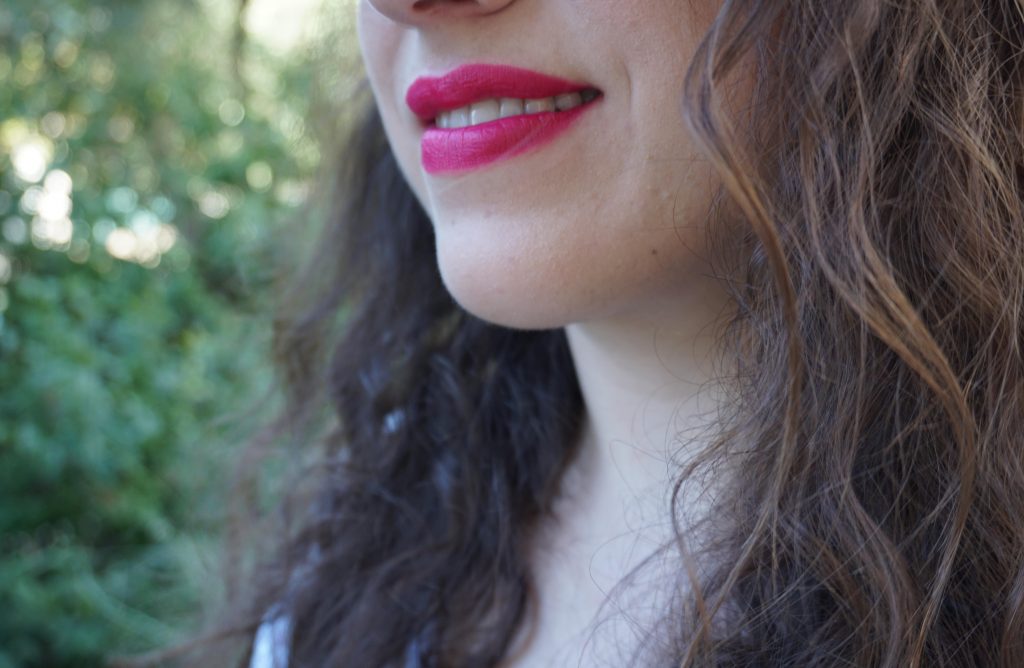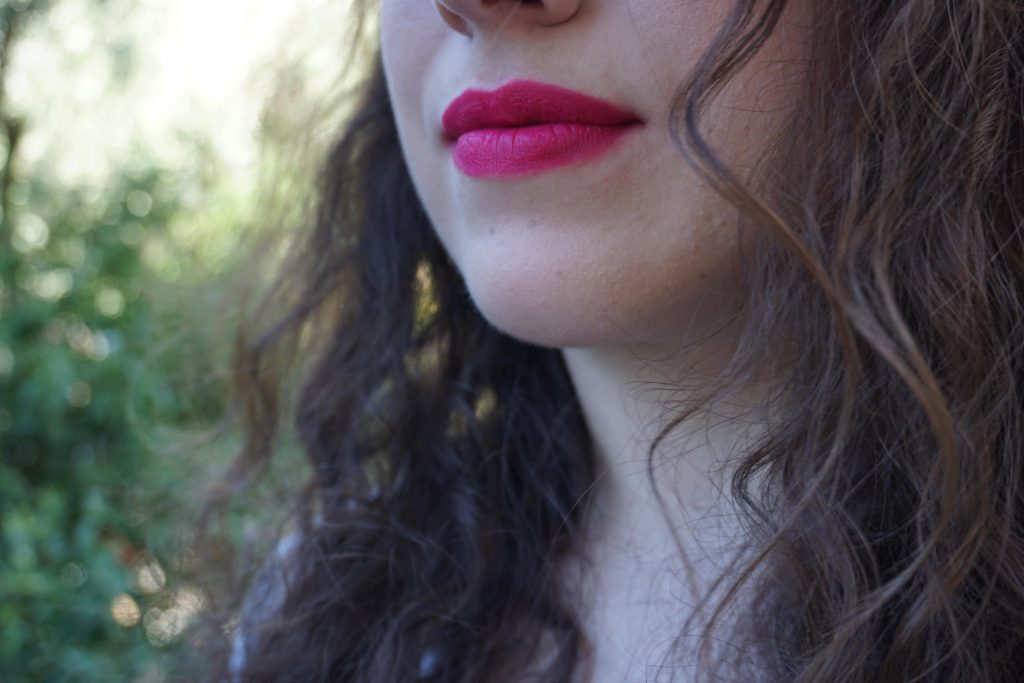 Lisa Eldridge Pink Lipsticks Make-up Bag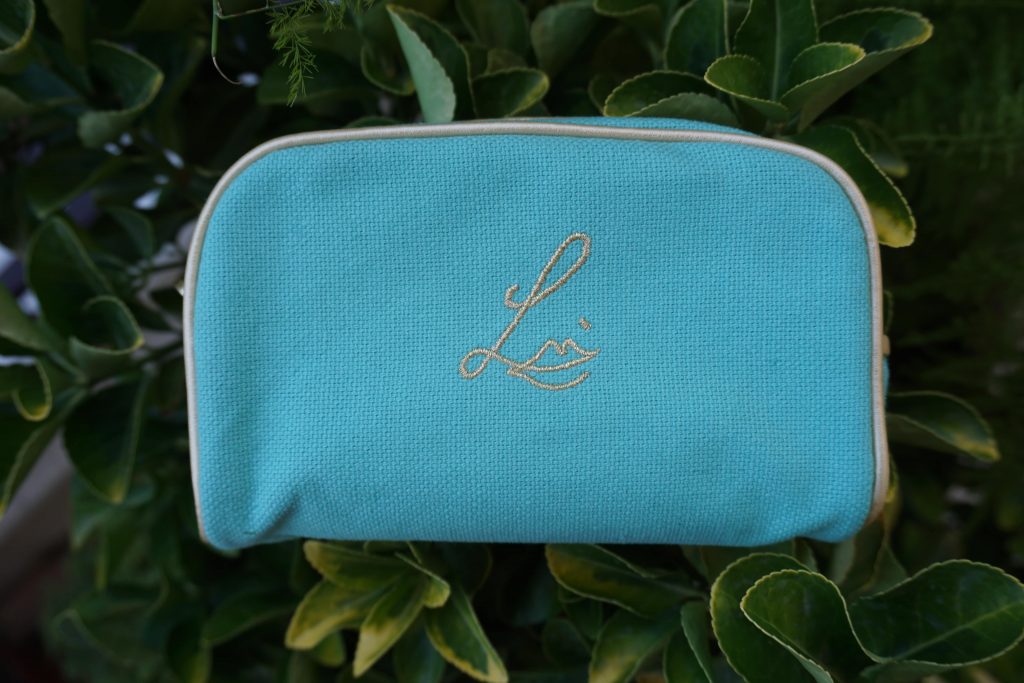 Of course, the makeup bag deserves its own mention! It is the same size as her previous one, this time made of turquoise linen. This bag is gorgeous and well made! It houses my Lisa Eldridge pink lipsticks collection and it is perfect for summer! There is no doubt I will take it with me for my holidays!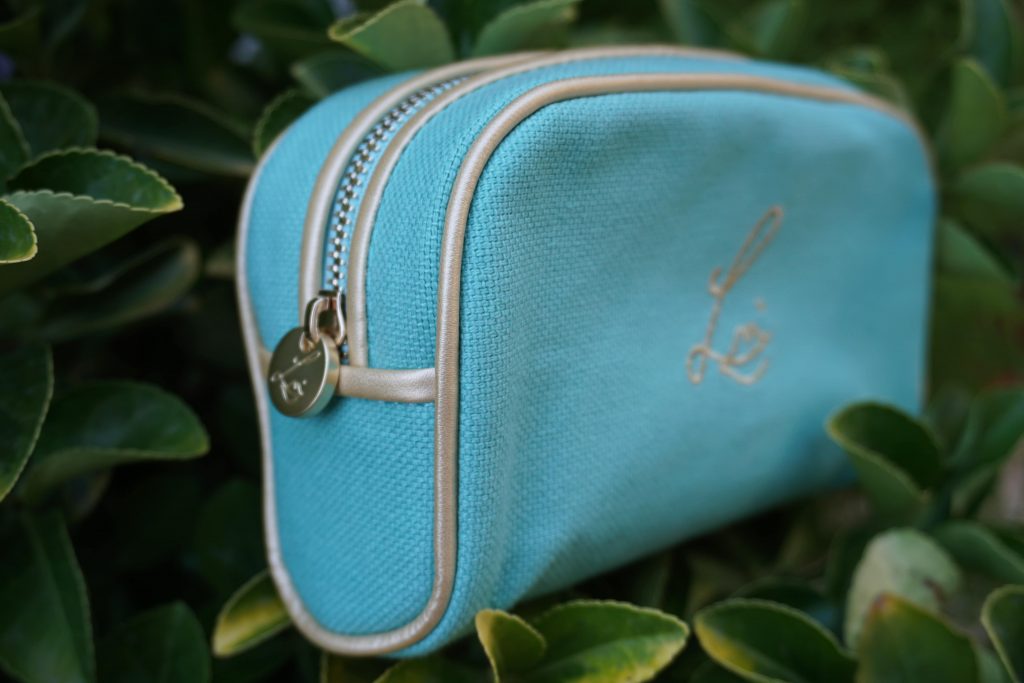 Final Thoughts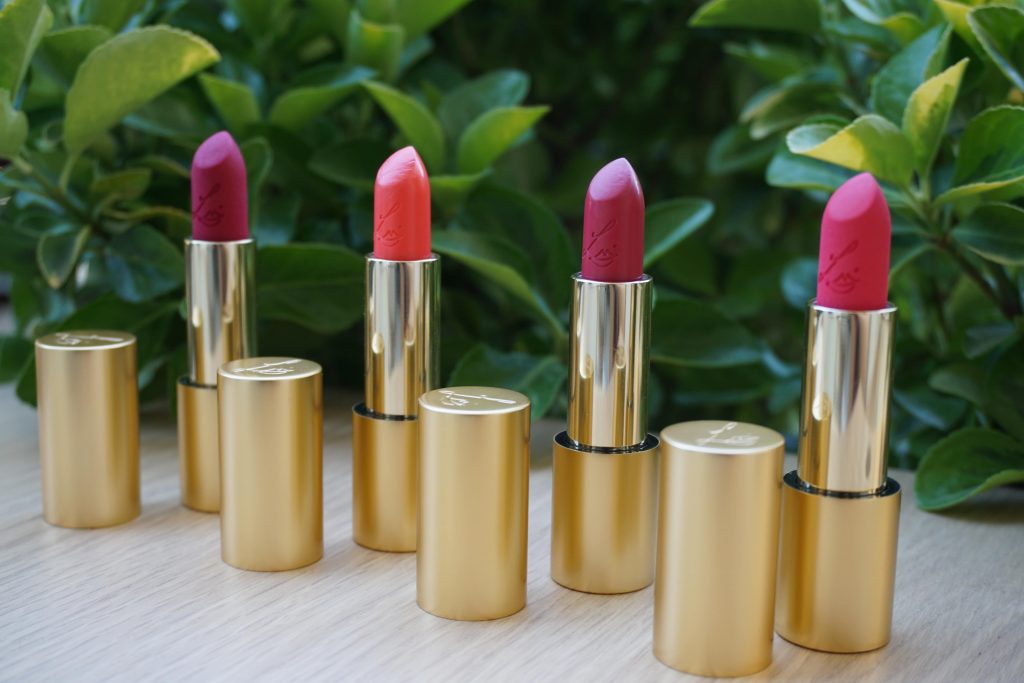 Now, I know that at the present moment her lipstick collections are sold out. However, she has mentioned that she will be bringing them out again in autumn, together with more shades. I can understand that some people are annoyed by this limited collection way of production. Nevertheless, personally I find that there are some important advantages:
By launching a limited collection of discrete products, she has the time to focus on them and perfect them. Had she come with a whole range of makeup products all at once, she would have either worn herself out, or it would result in lower product quality.
By funding her collections herself, she has the final say in every decision. She has therefore the freedom to make her products just the way she likes.
The customer knows that they have bought something well thought, well designed and catered for. In today's economy, buying a lipstick, any lipstick, is very easy. They are available in so many places and at so many different price points. However, finding a quality lipstick, that you like, and enjoy wearing it and not forgetting it in the drawer, is not easy.
Making financially optimal decisions (in a calculated, mathematical manner) is not always optimal, at least in my eyes, even though I come from a computer science background and I know a lot about optimisation. The reason is that there are so many factors that cannot be taken into account, such as long-term customer satisfaction. Acting in a greedy manner at each present moment, does not guarantee that the overall, long-term profit will be optimal.
I think Lisa enjoys more the process of producing her lipsticks one collection at a time rather than getting exhausted or putting out products that do not meet her standards. So, it is more sustainable to her if she likes the process.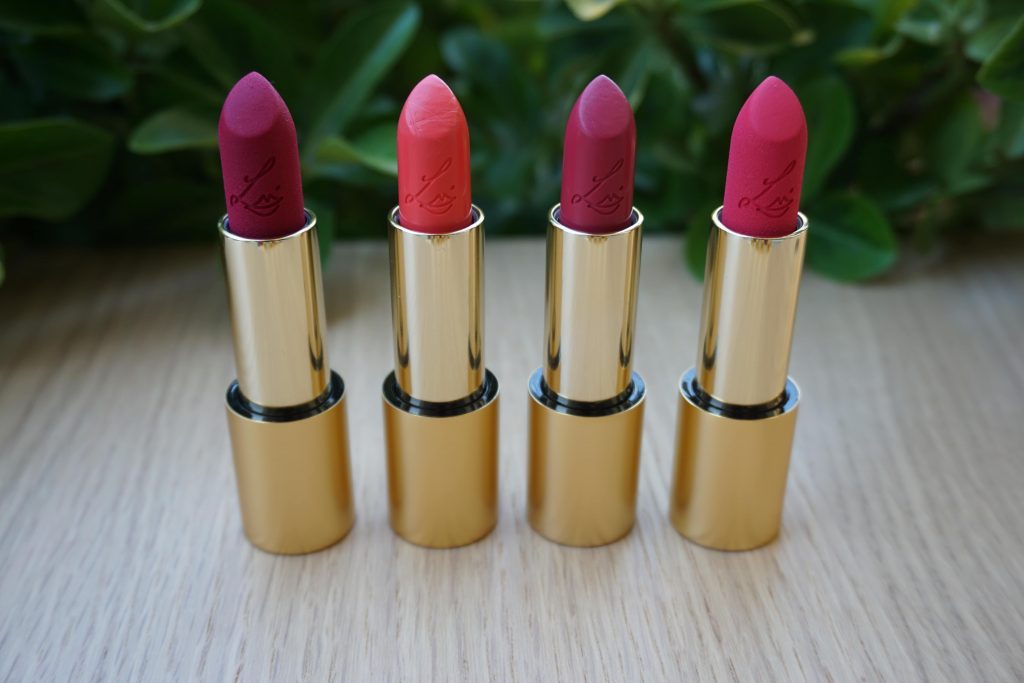 Definately, if you can get your hands on these Lisa Eldridge pink lipsticks, you won't regret it! The best place to find them is on her website, check out for announcements in autumn.
xo, Helen