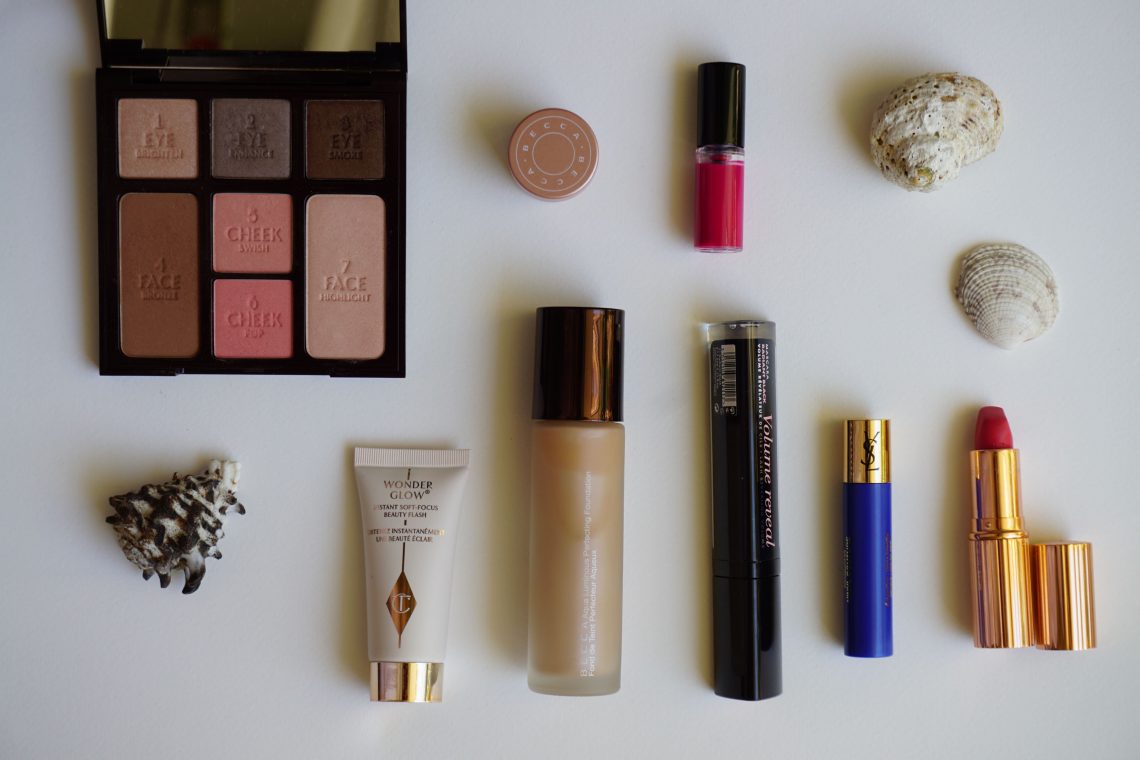 My top summer beauty bits
Hooray! It's officially summer! I gathered my top summer beauty bits for this season, that I hope I'll make the most use out of. I am so excited for warm weather (even if that translates into hot weather, with me fanning my face until I get to the next air-conditioned area, haha!) and I am particularly excited for this summer because of the beauty trends! Glass skin, sun-kissed, bronzed faces, vibrant colours!
Glowy skin
In the summer I tend to sweat a lot, so I am not particularly fond of heavy foundations. I just want my skin to breathe and be able to swipe my sweat without worrying about makeup. However, at summer nights, when I want to look polished, I will use the Becca Aqua luminous perfecting foundation. It is perfect for my summer tanned face because it is glowy without making my face beam like a disco ball, and it is a shade darker than my winter skin. As my skin darkens, I mix it with my regular foundation until my skin is the same shade as the Becca foundation.
Another great foundation product is Wonder Glow by Charlotte Tilbury. You can use it as a primer, but as it is tinted and I like to use it alone. It gives a wonderful glow and I find that it has a blurring effect on my skin, which I love! As for the under eye area, I use the Becca Under Eye Brightening Corrector, because it is the most glowy concealer I have. Again, I use a small amount and I tend to set it lightly with a powder to make it last longer.
My ultimate summer palette
I just love the Charlotte Tilbury Seductive Beauty palette! I got it because the eyeshadows were said to be similar to the Golden Goddess palette and I wanted to try her blushes as well. It has turned to being my favourite palette in the summer because the colours look amazing on tanned skin, it is travel friendly, and a one stop palette – you don't need to dig into your whole makeup collection to pull out a makeup look. You can really build up the colours for an evening look, or go light and create an everyday look. It is a very versatile palette and I absolutely love it!
Vibrant lips
There is nothing more summery in makeup than good old vibrant lipsticks! I love the shades of Charlotte Tilbury, in fact I have a whole post dedicated to them, and the one shown in the first picture is Miranda May. I also love mini-lipsticks because they are great for throwing them in your bag or for travel, and the one I photographed is by Lancôme, L'Absolu Velvet Matte in 378 Rose Lancôme.
Lashes
If I had access to only one makeup product to use, it would definitely be mascara. For me it is the number one product that makes the biggest difference on my face. I currently use my black Bourjois Volume Reveal mascara, which does the job, but a trend I really like is colourful lashes! I just love me a blue lash! The one in the top picture is a sample from YSL Vinyl Mascara in the shade 'No 5 I am the Trouble'. You might think it is crazy to wear a colourful mascara, but I reassure you that when worn it is not an 'in-your-face' look, it just compliments eye colour and makes your eyes look prettier! If you want to, I can elaborate more on that on another post!
xo, Helen