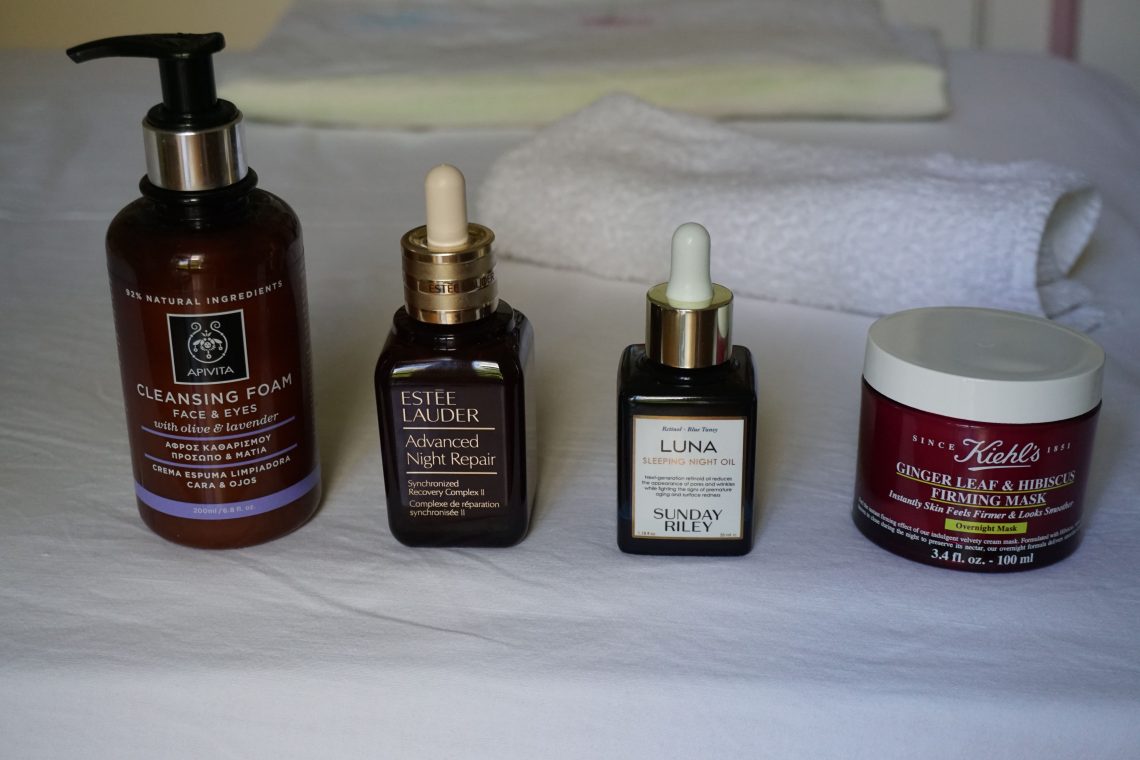 My Night-Time Skincare Routine
I used to be the person that did not pay attention to their skincare regimen. I am glad my mum advised me to wear a daily moisturiser since my early twenties. If it wasn't for her I don't know when I would have started wearing it. It was some years later, that I decided I had to take care of my skin, if I didn't want it to age too soon. Skincare is the cornerstone of beauty in the sense that if you treat your skin nice, you won't need many or even any makeup products. So, here is my night-time skincare routine, which I hope will give you some inspiration.
Step 1 – Cleanse
I love to cleanse my skin before I sleep, even in no makeup days. I like the feeling of getting rid of all the sebum of my skin which has been mixed with dust and fuel-particles (as I live in a big city) as well as any makeup residue. It feels so good afterwards! I use a natural cleanser by Apivita, which is called the Apivita Cleansing Foam Face and Eyes with olive and lavender. I apply one or half a pump, depending on whether I have used makeup or not and I rinse off with water. Then, I let my face air dry, or I might pat-dry with a towel if it's cold.
Step 2 – Moisturise
Depending on the day and what I feel my needs are, I use a different moisturiser. I go between the Estée Lauder Advance Night Repair, the Sunday Riley Luna Night Sleeping oil or the Kiehl's Ginger Leaf and Hibiscus Firming Mask, or the Apivita Jojoba oil. So, no, I don't layer products and I don't use each of the oils more than 2 times a week. Sometimes I use each once, or not at all, as I also use my daily cream for night-time. The reason I do that, is that I don't want my skin to get used to a specific formula and then freak out when it doesn't have it. I might not get the "specific benefits" of each product that you see from continued used, but I get the benefit of treating my skin with a wide variety of ingredients and keeping it always moisturised.
Keeping it simple
I guess my night-time routine is quite easy. The keys to it are good cleanse, and moisturise with a variety of ingredients but not excess. Well, I could have used a smaller variety products for the moisturising part, or even one. However, I want my night-time skincare routine to be some form of self-care and pamper. By using more than one products I feel that I treat my skin to many sources of "food". For the same reason I like to massage my face during application time and that sets me in a nice relaxed mood for sleep. It is also very good for blood circulation.
What is your night-time skincare routine? What products do you use?
xo, Helen